LEAP OBT 12-TRX 300G NRZ
Description:
LEAP® ON-BOARD TRANSCEIVER
12-TRX 300Gb/s High-Speed Optical Module
SMALL, FAST AND, POWER EFFICIENT

,
the LEAP® On-Board Transceiver is a rugged 12-channel duplex optical transceiver capable of running data-rates of up to 25Gbps per channel (300Gbps cumulative) on multi-mode fiber. It has been qualified and introduced in production in 2015 to serve the needs for high-density and high-data rate applications in datacenters, supercomputers and 5G broadband infrastructures. Fully qualified according to Telcordia standard.
12 x 25 Gbps FULL DUPLEX (Tx + Rx):
Storage temperature: (-40°C;+85°C)

Operating case temperature: (0°C;+70°C)

Shock: (500g;1ms) per Telecordia GR-468/63

Vibration: 20g@[20-2000Hz] per Telecordia GR-468/63

EASY TO INSTALL:

Features & Benefits:
FEATURES:
1" x 1" layout grid
Ethernet 100GBASE-SR4 compliance (per quad)
Compatible with Amphenol MT optical cables
Compatible with Amphenol socket
Two wire control and diagnostic interface
Data rate transparent from 300Mb/s to 25.8Gb/s
Integrated heat sink design
Class 1M laser version available
Enhanced Bit Error Rate (1e-12) requires no or limited FEC
Programmable input equalization
Programmable output amplitude and emphasis
BENEFITS:
Replaceable patchcord
Easy to install and remove
Uses off-the-shelf MT optical interface
No through holes to connect transceiver – one side of board only
Allows for transceiver optimization and monitoring connection discovery, channel diagnostics, and signal status monitoring
Supports non-standard protocols in this range of datarates. Note CDR operational bit rate of 25-25.8Gb/s
Select from a number of pre-fabricated or customized designs to meet your system needs
Water cooled compatible version available
Fail safe operation that meets all safety requirements
Lower system latency and better system performance
11dB of signal peaking at 12GHz to compensate for suboptimal signal condition
Compensate for PCB traces loss for proper signal conditioning
Air cooled or conduction cooled – heat sink can be customized

The LEAP® On-Board Transceiver is produced in volume since 2016 with top-of-the-class reliability figures.
Ask an Expert: LEAP Transceivers #shorts
0:50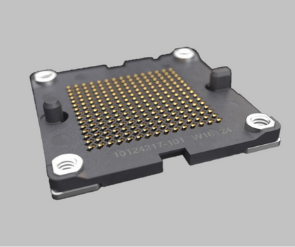 LEAP OBT Socket
The LEAP® OBT socket has been designed to host the LEAP OBT optical modules (standard & rugged). The socket is soldered onto the PCB.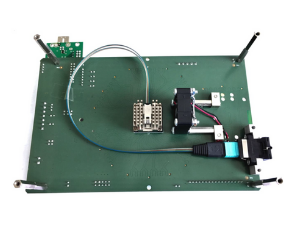 LEAP® OBT Evaluation Kit
The LEAP OBT evaluation kit allows assessing and optimizing the performance of the LEAP OBT modules for their specific end-applications.