LEAP OBT (12TRx)
Description:
The LEAP® On-Board Transceiver is a rugged 12-channel duplex optical transceiver capable of running data-rates of up to 25Gbps per channel (300Gbps cumulative) on multi-mode fiber. It has been qualified and introduced in production in 2015 to serve the needs for high-density and high-data rate applications in datacenters, supercomputers and 5G broadband infrastructures. Fully qualified according to Telcordia standard.
12x25Gbps full duplex (Tx + Rx):
Storage temperature: (-40°C;+85°C)
Operating case temperature: (0°C;+70°C)
Shock: (500g;1ms) per Telecordia GR-468/63
Vibration: 20g@[20-2000Hz] per Telecordia GR-468/63
The LEAP® On-Board Transceiver is produced in volume since 2016 with top-of-the-class reliability figures.
New: available on Mouser!
Features & Benefits:
From 1 to 12 full duplex configurations
Low power consumption 5W typical (at 25Gbps)
100m reach with 850nm multimode optics (OM3/OM4)
Solves faceplate density and I/O challenges
Enhanced Bit Error Rate (1e-12) requires no or limited FEC
CDRs and DC Blocking caps on all high-speed lanes
Accepts standard MT24 ferrule – Separable Interface
Air cooled or conduction cooled – heat sink can be customized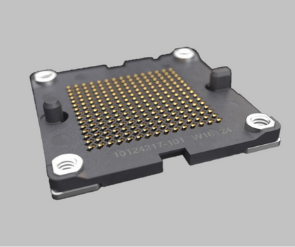 LEAP OBT Socket
The LEAP® OBT socket has been designed to host the LEAP OBT optical modules (standard & rugged). The socket is soldered onto the PCB.
LEAP® OBT evaluation kit
The LEAP OBT evaluation kit allows assessing and optimizing the performance of the LEAP OBT modules for their specific end-applications.